Discovering the Perfect Machine for Beginners!
Are you ready to unleash your creativity and step into the vibrant world of embroidery? Whether you are passionate about fashion design or simply looking for a relaxing hobby, finding the perfect embroidery machine is a crucial first step. But with so many options available, where do you begin?
In this comprehensive guide, we will unravel the mystery behind choosing the ideal embroidery machine for beginners. From understanding the different types of machines to exploring the must-have features, you'll gain valuable insights to make an informed decision.
As a beginner, it's important to find a machine that strikes the perfect balance between functionality and ease of use. Investing in a reliable and user-friendly embroidery machine can make all the difference in your learning journey.
Join us as we delve into the world of embroidery machines and unravel the secrets behind finding the perfect one for beginners. Get ready to unleash your creativity and bring your designs to life with the best machine for your needs. Let's get started!
Types of embroidery Machine for Beginners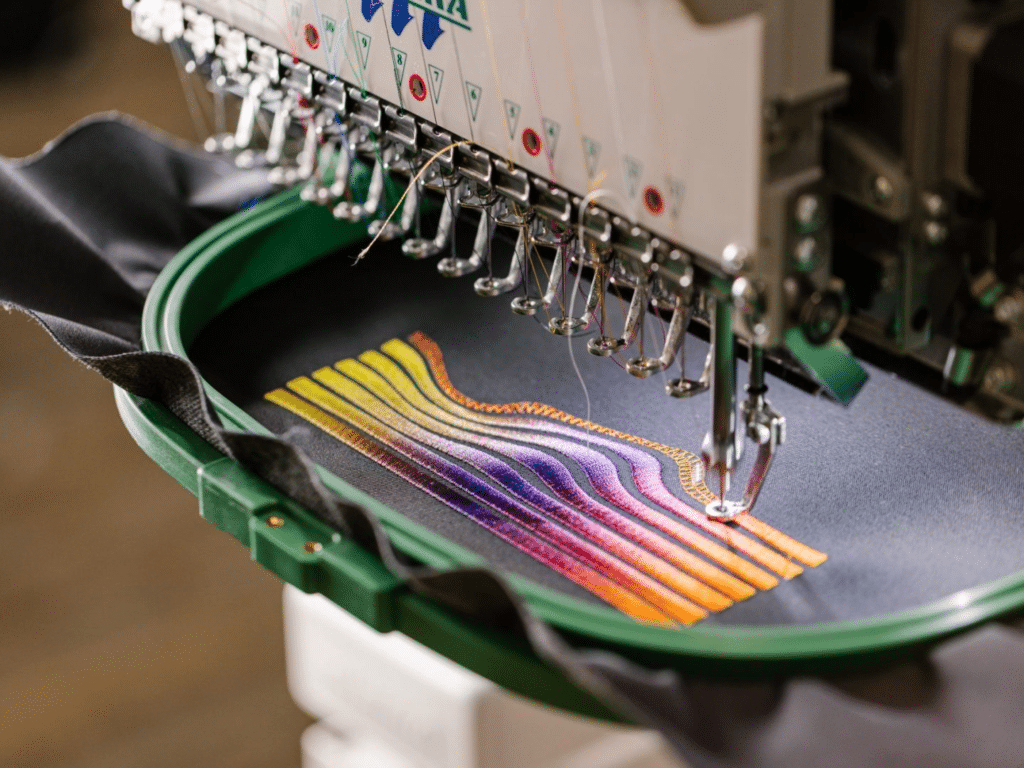 Embroidery machines come in various types, each with its own set of features and capabilities. Understanding the differences between these types will help you narrow down your options and find the one that suits your needs.
1. Mechanical embroidery machines: These machines are the most basic and affordable option for beginners. They require manual adjustments and are suitable for simple embroidery designs. However, they lack the advanced features and automation of other types.
2. Computerized embroidery machines: These machines are equipped with built-in designs and can also import digitized designs from your computer. They offer more versatility and precision, making them a popular choice among beginners and professionals alike. Computerized machines often come with LCD screens for easy design editing and customization.
3. Combination sewing and embroidery machines: If you're also interested in sewing, a combination machine might be the perfect choice for you. These machines offer both sewing and embroidery capabilities, allowing you to switch between the two with ease. They are more expensive than standalone embroidery machines but offer greater flexibility.
Factors to consider when choosing an embroidery Machine for Beginners
Choosing the right embroidery machine involves considering a few key factors that will impact your overall experience and the quality of your embroidery projects.
1. Embroidery area: The size of the embroidery area determines the maximum dimensions of your designs. Consider the types of projects you plan to work on and choose a machine with an embroidery area that can accommodate your needs.
2. Stitch quality: Look for machines that offer high stitch quality and precision. This will ensure that your embroidery designs come out crisp and professional-looking.
3. Ease of use: As a beginner, it's important to choose a machine that is user-friendly and intuitive. Look for features like automatic needle threading, easy bobbin winding, and clear instructions.
4. Built-in designs: Some machines come with a variety of built-in embroidery designs, allowing you to get started right away. Consider the number and variety of designs that come with the machine and whether they can be customized.
5. Connectivity options: If you want to expand your design library, consider machines that offer USB or WiFi connectivity. This will allow you to import and use additional designs from external sources.
Top embroidery machines brands for beginners
When it comes to choosing an embroidery machine, opting for a trusted brand can give you peace of mind and ensure a quality product. Here are some of the top embroidery machine brands for beginners:
1. Brother: Brother is a well-known brand in the embroidery industry, offering a wide range of machines suitable for beginners. Their machines are known for their reliability, ease of use, and excellent stitch quality.
2. Singer: Singer is another reputable brand that has been in the industry for decades. They offer a variety of embroidery machines that cater to different skill levels and budgets.
3. Janome: Janome is known for its innovative features and user-friendly designs. Their machines are often praised for their durability and versatility.
See more about How do embroidery machine work?
Top 5 Beginner Home Embroidery Machines in 2023
Features to look for in an embroidery machine
To make the most out of your embroidery machine, it's important to consider the features that will enhance your creativity and productivity. Here are some key features to look for:
1. Automatic thread cutter: This feature saves time and eliminates the need for manual thread cutting, allowing you to seamlessly move on to the next color or section of your design.
2. Embroidery editing software: Some machines come with built-in embroidery editing software that allows you to customize and modify designs. This feature is especially useful if you want to personalize your projects.
3. Hoops and frames: Look for machines that come with a variety of hoop sizes and frames. Having different sizes available will allow you to work on projects of various dimensions.
4. Built-in tutorials and guides: Beginners can benefit from machines that offer built-in tutorials and guides. These resources can help you learn the basics of embroidery and get started on your projects with confidence.
Understanding embroidery machine pricing
Embroidery machines vary in price, depending on their features and capabilities. It's important to set a budget and understand what you're getting for your money.
1. Entry-level machines: These machines are typically priced between $200 and $500. They offer basic functionality and are suitable for beginners who are just starting out.
2. Mid-range machines: Mid-range machines usually fall in the $500 to $1500 price range. They offer more advanced features and capabilities, making them a great option for those who want to explore a wider range of embroidery techniques.
3. High-end machines: High-end machines can range from $1500 to several thousand dollars. These machines are equipped with the latest technology and offer the most advanced features and customization options. They are ideal for professionals or enthusiasts who want to take their embroidery skills to the next level.
Embroidery machine accessories and supplies
To get the most out of your embroidery machine, you'll need a few essential accessories and supplies. Here are some items to consider:
1. Embroidery threads: Invest in a variety of embroidery threads in different colors to add vibrancy and depth to your designs.
2. Stabilizers: Stabilizers are essential for keeping your fabric stable during the embroidery process. There are different types of stabilizers available, so choose the one that suits your fabric and design.
3. Embroidery needles: Embroidery needles are specially designed to accommodate the thickness of embroidery threads. Having a selection of needles on hand will ensure that you can choose the right one for each project.
4. Embroidery software: If you want to create custom designs or modify existing ones, embroidery software is a valuable tool. Look for software that is compatible with your machine and offers the features you need.
Embroidery machine maintenance and care
To keep your embroidery machine running smoothly and ensure its longevity, regular maintenance and care are essential. Here are some tips to keep in mind:
1. Cleaning: Regularly clean your machine to remove dust, lint, and any loose threads. Follow the manufacturer's instructions for cleaning and lubricating specific parts.
2. Bobbin care: Keep your bobbin area clean and free from lint or thread buildup. This will prevent thread jams and ensure smooth stitching.
3. Needle replacement: Replace your embroidery needle regularly, as a dull or damaged needle can affect stitch quality. Follow the manufacturer's recommendations for needle replacement.
4. Storage: When not in use, cover your machine to protect it from dust and sunlight. Store it in a cool and dry place to prevent any damage.
Embroidery machine projects for beginners
Now that you have your embroidery machine and all the necessary supplies, it's time to start your first embroidery project. Here are a few beginner-friendly ideas to get you started:
1. Personalized towels: Embroider initials or monograms onto plain towels to add a personal touch to your bathroom or kitchen.
2. Baby gifts: Create adorable baby bibs, burp cloths, or blankets with cute and colorful embroidery designs.
3. Tote bags: Jazz up plain tote bags with vibrant and eye-catching embroidery designs. These make great gifts or personal accessories.
4. Decorative pillows: Add a pop of color and texture to your living space by embroidering decorative pillows with intricate designs.
Conclusion
Embroidery is a versatile and rewarding craft that allows you to express your creativity and create beautiful designs. By choosing the perfect embroidery machine for beginners, you'll set yourself up for success and endless possibilities. Consider your needs, budget, and the features that are important to you. With the right machine and a little practice, you'll be creating stunning embroidery projects in no time. So, dive into the world of embroidery and let your imagination soar!